Epic is a private, secure web browser that blocks ads, trackers, fingerprinting, cryptomining, ultrasound signaling and more. Stop 600+ tracking attempts in an average browsing session. Turn on network privacy with our free VPN (servers in 8 countries).
Epic's default is extreme privacy
No History.
No Web Cache.
No DNS Pre-Fetching.
No DNS Cache.
No Third Party Cookies.
No Rogue Extensions.
No Spell-Check.
No Autofill.
No Password Saving.
No Google Sync..
No Automated "Most Visited Websites".
No Auto-Suggest.
No Alternate Error Pages.
One-Click Encrypted Proxy
Epic's encrypted proxy when turned on hides your IP address and encrypts your browsing. DNS requests are also routed through the encrypted proxy. This protects your browsing history from your ISP, your employer, your government, data collectors, and other network snoops. It secures you when you're on public WiFi (WiFi protection). The encrypted proxy also lets you access websites that may be blocked or that offer different content by country such as Netflix, Hulu, YouTube, Pandora, Spotify and others. Please note that plugins may leak your actual IP address. For stronger IP protection, disable plugins or set them to click-to-play in Epic's settings. All Epic users now can access our free VPN servers in the US, Canada, Singapore, France, Germany, India, the Netherlands, and the UK.
Epic Screen Shot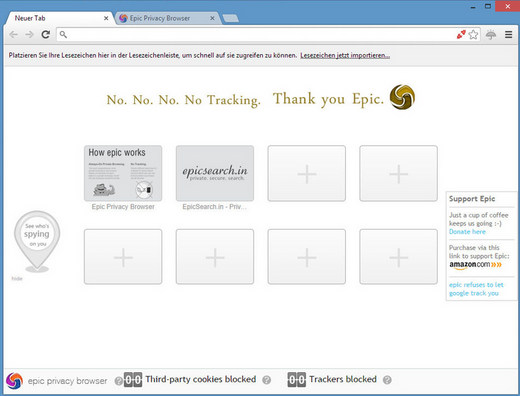 Pros
Great privacy
Build in VPN

Cons
Not working properly with some sites

Epic Home Page
Download Epic