HTTP Downloader is a download manager for the HTTP(S) and FTP(S) protocols. Maximize your download throughput by utilizing high performance input/output completion ports (IOCP). HTTP Downloader can open thousands of connections at a time and consumes very little system resources.
HTTP Downloader is a high-performance, multi-part download manager. You can Start, Pause, Stop, and Queue up to 100 downloads at a time. Each download can be split into 100 parts. That's 10,000 connections!
Drag and drop links into the program's main window or, select File > Add URL(s)... to bring up the Add URL(s) window. From here you can select the download location to save the files. The Advanced button allows you to configure the number of parts to split each download, the SSL / TSL version to use for HTTPS connections, authentication information (basic or digest), and any necessary cookies, headers, and POST data. Clicking the Download button will begin the download(s).
HTTP Downloader Screen Shot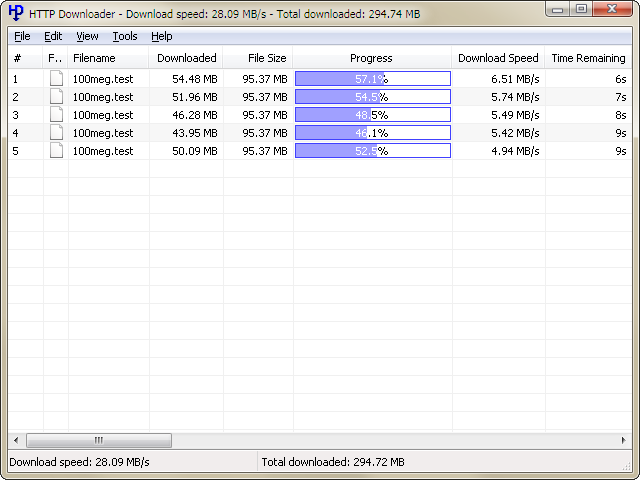 Pros
Fast
Have many options

HTTP Downloader Home Page
Download HTTP Downloader