Vivaldi is a great browser with few downsides. It features impressive customization and access to Chrome's vast library of extensions while also being fast and light on RAM consumption compared to other browsers. It includes quite a few handy features, too, such as notes, tab stacking and tiling and the ability to permanently pin websites to the sidebar.
When it comes to security and privacy, Vivaldi again receives top marks. It updates frequently and does a good job blocking malicious websites. It also collects little data on you as a user and presents a clear overview of which third-party services you need to disable if you want to maximize your privacy.
The only drawback to the browser is its lack of an iOS version. The developers have stated this is something they're working on, but due to Apple's stringent requirements for browsers on the platform, it will take some time to be released.
Features
Tab Management
Unique features give you full control of how you group and display browser tabs.
Customization
Tweak and tune every part of the browser to create your own unique experience.
User Interface
An adaptive interface lets you adjust the position, size and appearance of the browser's UI elements.
Navigation
Get to where you're going faster with fully configurable Search options, custom shortcuts and a Bookmark manager fit for power users.
Mouse & Keyboard
Use custom Keyboard Shortcuts, Mouse Gestures or the command line control of Quick Commands. The choice is at your fingertips.
Privacy & Security
Vivaldi is built with privacy as a priority and gives you full control of settings critical to keeping your data safe.
Tools
An arsenal of built-in tools like Notes, Image Properties and more give you advanced functionality without sacrificing performance.
Vivaldi Screen Shot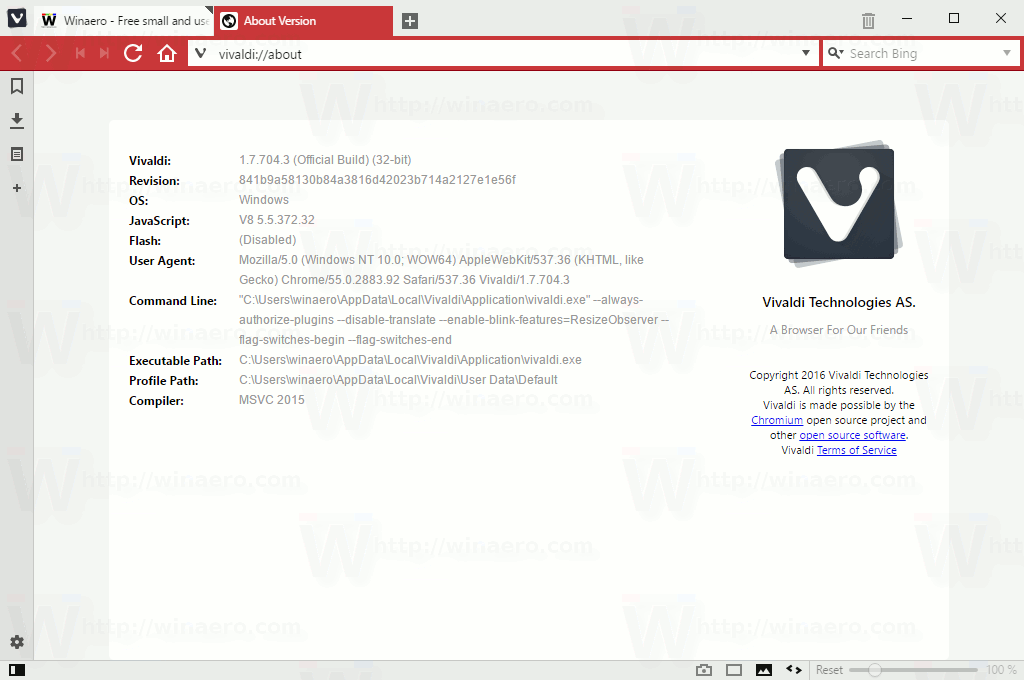 Pros
Fast
Customizable
Great privacy controls
Compatible with Google Chrome extensions

Cons
No iOS version

Vivaldi Home Page
Download Vivaldi